To those whose lives they briefly touched, Los Zafiros are legends. A musical phenomenon molded by their

time and place, The Sapphires caused a sensation in Havana and beyond throughout the 1960's and into the early '70's. Though they enjoyed international acclaim, touring widely throughout Europe, Los Zafiros have remained in relative obscurity throughout the U.S. as a result of the political climate of the cold war.
Inspired by 1950's American vocalists like The Platters, The Mills Brothers and The Modernaires. Leoncio 'Kike' Morua and Miguel 'Miguelito' Cancio, formed Los Zafiros in Havana's Cayo Hueso neighborhood. During a series of auditions, Miguel and Kike found their next member, Ignacio Elejalde, working in a Havana hair salon. His voice displayed a passionate counter-tenor working in the highest registers imaginable.
The fourth singer to join was the tall and handsome Eduardo Elio 'El Chino' Hernández, whose smooth ways and piercing delivery would make him and Kike the resident "heartthrobs" of the group. Manuel Galbán, already a recognized musician in Cuba, met with the quartet in 1962 to discuss the job of musical director and guitarist. After hearing him play his unique rock-n-roll licks and Duane Eddy-like surf music, the boys knew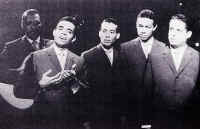 they had the fifth man on the team. Their sensual mix of international good-time music, Rumba, R&B, American-inspired Doo-Wop, Bolero, Calypso, Bossa Nova and the multi-colored heritage of their native Cuba, soon brought them a rabid female following and heavy air play on Cuban radio, making them something like The Beatles of their day.
Four decades after the group's formation, Los Zafiros' popularity continues to this day, sparked by the highly successful 1998 release "Bossa Cubana" from World Circuit Records ("Buena Vista Social Club"). On a popular battle-of-the-bands style radio program hosted by Adrian Mesa of 92.3 Classica-FM in Miami in December 2001, Los Zafiros receive a majority of the call-in votes compared to their competition. Cuban immigrants living in Miami lavish enthusiastic praise on the group and wonder what has become of the Cayo Hueso Doo-Wop group that once captured the world's attention.
TREATMENT
The only member of Los Zafiros to leave Cuba, Miguel Cancio immigrated to Miami in 1993 in order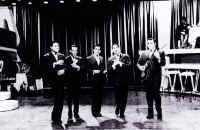 to be closer to his children who had left Cuba thirteen years before. Though he has left his homeland and cut back on musical pursuits, Cancio still proudly wears the sapphire ring that gave the group its name. Purchased from a drunken man outside CMQ studios in 1956, it has become an indelible trademark of Los Zafiros and an important reminder of Cancio's musical past.
Ninety miles of ocean and four decades of political tension have separated Cancio from his homeland for nearly ten years. His return to Havana in December 2001 to participate in this documentary and to reunite with Manuel Galbán, the only other surviving member of Los Zafiros, filled him with apprehension and excitement. Just as it brought them together forty years earlier, the two men's passion for music links Cancio and Galbán as they visit the people and locales that played an important role in the formation and success of Los Zafiros. They take a trip out of Havana to the Hotel Oasis in Varadero, site of the group's first professional "out of town" gig in October, 1962. While in Varadero they visit the two brothers of late Zafiros' singer Leoncio "Kike" Morua, where they sing, eat vast quantities of lobster, drink and remember.
Manuel Galbán and his wife Magda have been married for 35 years and still live in the same house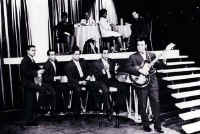 in Havana as in the heyday of Los Zafiros. In his ten years with the group (1962-72), Galbán had a great deal to do with creating the rich, exotic arrangements that distinguished Los Zafiros from other Cuban popular music of the period. Still active on the Cuban and international music scene through his work in The Buena Vista Social Club and as a recording artist for London's World Circuit records, Galbán admits that his years with Los Zafiros were the most satisfying of his long career.
Cayo Hueso's neighborhood links to Los Zafiros have not faded over time. The group remains as popular today as in their prime. "People on the street" interviews in Cayo Hueso conducted by famed Cuban actress Mirtha Ibarra feature people's memories of the neighborhood's most famous native sons. Cancio and Galbán join the Havana tribute group Los Nuevos Zafiros for an impromptu outdoor concert in Parque Trillo, a traditional gathering place for Cayo Hueso residents.
A crowd of locals, ranging in age from eight to eighty, gathers and sings along. They know all the lyrics, the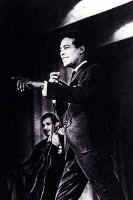 exact intonations, of the wildly popular Zafiros' number "Ofelia." It is a very telling moment, this crossing of generations through music. For Galbán and Cancio, the sight of their old neighbors singing one of their hits is emotionally complex and satisfying.
In mid-December 2001, Nick Gold of World Circuit Records arranged a special recording session for Galbán and Cancio at EGREM. Along with longtime Zafiros' collaborators Orlando "Cachaito" Lopez, Roberto Garcia and Bernardo "Chori" Garcia, Cancio and Galbán recorded two of their old songs. This session plays a central role in the film and marks the first time that Galbán and Cancio have recorded together in over thirty years.
When the opportunity presented itself in 1965 to tour abroad with a group of Cuban performers know as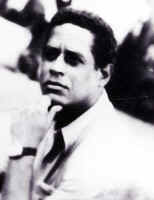 The Grand Music Hall of Cuba, Los Zafiros were ready. They appeared in Eastern Bloc cities such as Moscow, Warsaw and East Berlin, though it was in Paris, at the legendary Olympia Theatre, that the five young men from Cuba really made their mark. While their international following continued to grow, escalating political tensions prevented them from gaining recognition in the United States. Los Zafiros returned to Cuba at the peak of their success, though problems had already begun to appear between the members.
As the popularity of the group increased, Galbán's role expanded well beyond the music. A firm hand was needed to guide the talents and temperaments of these passionate young men. A fight between Kike and Chino one night at the Oasis Hotel completely destroyed a hotel room. Stories of their misbehavior became almost as much a part of their appeal as the incredible sounds they produced. Going without food or sleep for days at a time, Kike, Ignacio and El Chino often hit the bars as soon their doors were opened. They were killing themselves and there was nothing anybody could do about it.
With hit records rolling out of Havana's EGREM Studios, the growing excesses of Los Zafiros' were forgiven though not completely forgotten. Foreign promoters, afraid of the group's increasingly disruptive reputation, eventually began canceling many overseas tours.
Within Cuba, their notorious activities and the changing musical tastes caused the quintet to drift out of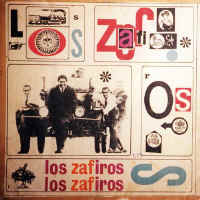 political and professional favor. Frustrated by the unprofessional conditions and declining interest in the band among Cuban fans and international promoters, Galbán left the group in 1972. After his departure, the remaining members tried singing with an orchestra and made a few recordings but the results were not as before.
Los Zafiros spiraled downward until officially disbanding in 1975. Ignacio died in 1981 at the age of 37 from a brain hemorrhage. Kike died in 1983 from cirrhosis of the liver. Elio "El Chino" Hernández, beset by severe vision, speech and drinking problems, lived alone back in Cayo Hueso until his death on August 8, 1995 at age 56.
During an emotional visit with Chino's brother, violinist Jorge Hernandez Mora, Cancio remarks that many of the old neighborhood's residents have passed away. "Every time I ask Galbán about someone, he tells me, 'He's dead.' I'm afraid to ask him any more, because I'm afraid I may be next." Galbán and Cancio think about their three vanished friends all the time. Kike, Chino and Ignacio bring back complex memories. Galbán reflects, "I hated seeing them the way they were at the end. I think about them, the things they said and did. They never grew up. They were always just kids. But they had good hearts. They were born to sing. They just didn't know how to live."
Ultimately, it is the group's music and not their demise that carries on their legacy. In
linking the disparate strands of Cuban musical and political history, this feature-length documentary aims to present a vivid, moving, and balanced portrait of the remarkable musical success story that was Los Zafiros. This film also explores the emotionally complex experience of Los Zafiros' founder and Cuban-American Miguel Cancio returning to his musical and family roots in Cuba. "Music from the Edge of Time" offers up Los Zafiros' music and their memories as a means for uniting people long separated by political circumstances.
PRODUCTION COMPLETED
During November and December, 2001, producer/director Lorenzo DeStefano and crew filmed over 60 hours of interviews and musical performances in Miami and Havana. Both surviving members of Los Zafiros, Miguel Cancio and Manuel Galbán, cooperated fully with this production. Many prominent Cuban musicians such as Buena Vista Social Club bassist Orlando "Cachaito" Lopez, Juana Bacallao and Oscar Aguirre were filmed in performance and in interviews. Universally known Cuban musical personalities Rosita Fornes, Los Papines, and Cuban-American salsa star Manolin ("El Medico de Salsa") also provide their perspectives. A number of Los Zafiros family members and friends in Havana and Miami generously shared their vibrant memories of the group as well as their own lives during "the edge of time," the 1960's – the first decade of Communist rule in Cuba.
Well-known American musicologists Tom Schnabel and Alan Geik have also contributed interviews along with Arturo Gomez of WDNA-FM Miami and Cuban-American musicians Luis Conte and Harry "El Chino" Kim. Filmmaker Howard Dratch ("Roots of Rhythm" – PBS, 1990) and Nick Gold, producer of "The Buena Vista Social Club" album, each shared their great deal of experience in the field of Caribbean and World music.
KEY PERSONNEL
Producer/Director Lorenzo DeStefano made the widely seen feature documentary "Talmage Farlow" for The New Jersey Network/PBS. He was a producer, director and the supervising film editor on the long-running ABC/Warner Brothers drama series "Life Goes On" and is author of the plays "Providence" and "Camera Obscura." Having worked extensively in Cuba since the early 90's as a photographer, his photographic memoir of the island, "La Hora Magica / The Magic Hour – Portraits of a Vanishing Cuba," has been exhibited in the United States, Cuba and Canada and can be viewed at www.lorenzodestefano.com/photography1.htm.
Executive Producer - Randa Haines: Director of the feature films "Children of a Lesser God," "The Doctor" and "Wrestling Ernest Hemingway." A longtime friend of Cuban artists and filmmakers, she has been instrumental from the early stages in helping to guide this complex and ambitious production.
Executive Producer - Sandra Levinson: Founder and director of The Center For Cuban Studies in New York (www.cubaupdate.org). The Center has been promoting valuable artistic and intellectual exchange between the United States and Cuba for over thirty years, through their landmark outreach work with Cuban artists and filmmakers. The Center has also introduced thousands of American visitors to the island through their highly active cultural exchange program. Levinson's experience in Cuban affairs has provided this production with valuable guidance and assistance.
Producer & Director of Photography - Thomas Ackerman, ASC: In addition to his feature work ("Snow Dogs," "Jumanji," "Beetlejuice"), Tom has longtime documentary experience through his association with Charles Guggenheim Productions in Washington, D.C. He photographed DeStefano's previous feature documentary, "Talmage Farlow," for PBS.
Editor is Sergio Palermo. Originally from Argentina and a graduate of the film program at Pasadena's Art Center College of Design, Sergio brings a great deal of musical and editorial experience to this project from the many documentary and performance pieces he has crafted in his ten years as a freelance editor.
Production Sound by John Austin, Pictures, Words & Music - Miami, Florida
Associate Producers are Dana Graham of The Randa Haines Company,
Victor Pina Tabio, and the late George Hernandez.